And so, I finally managed to filter and rearrange photos from 3 gadgets and tadaaaah.. my outdated post on the Christmas Proposal.
2013 was a year of weddings and babies. I attended many weddings and knew many friends adding little ones to their families and I was thinking to myself, this is like the latest trend. I knew and confirmed that I won't be following that trend, but…..
So we missed out the countdown to Christmas and what's worse, we even woke up at 9.30am on Christmas Day. Half day wasted. We don't go Japan to sleep, do we?
Woke up and saw Japanese guys cleaning windows, like Spiderman. Wahraooo ehh.. very dangerous lor.

They provide Sheseido cleansing foam wei..

Prepared ourselves and took an instax of us. I realized he was a bit different that morning. He wore a white blouse. I asked him why he wear so smart, he replied cos I'm wearing white too but mine was just the Hard Rock Hotel Singapore White tee la. Not the white dress like going to get married kinda dress la. hahahaha.

My morning face.

We quickly got out from the hotel and continue our tourist journey. First stop – Kyoto Station *again* Can I bring all of them home?

This time, we decided to go eat like the locals. Went to vending machines and made a fool out of ourselves. We then got help from an obasan who tried to use hand language to tell us how to use it. Hohoho.. Arigatogozaimasu Obasan.

So, the correct way to use the vending machine is to decide what you wanted to eat. If your mathematics are poor, worry not. Just press on the few items that you want, it will auto calculate for you.

After that, insert money into the machine.

Collect your tickets and pass to the friendly staffs in the house.

Our breakfast set. Add on an egg. You know what? Japan has the prettiest and most delicious eggs in the world.

Another bowl of ramen.

Free flow of plain water / skyjuice. One thing I noticed about Japanese. They drink cold water anywhere, anytime, even during winter.

I'm very curious on that bowl of thingy that looks like cornflakes / honeystar. I see the locals add a spoonful or more into their bowl of noodles. O.o

I only add the raw egg into the bowl of udon.

He was wearing his jacket, so you can't see how handsome he was with his white blouse the other day. Hehehe.

and one thing about Japan at most places. Things you used, you need to return to them instead of leaving them on tables like you do in Malaysia. It's their culture.

We went to Kyoto Tourist Information Center to get more information on things and places we wanted to go. Bought ourselves a CityBus One Day @ 500Yen each.

It has no date printed until we put our card into the machine next to the tourist bus driver.

Sin, with the bus that took us to our destination.

Me >.<

13(year)12(month)25(day)

So on our second day in Kyoto, Sin said we should go visit Kiyomizudera Temple also known as 清水寺, literally means "Pure Water Temple" is one of the most celebrated temples of Japan. It was founded in 780 on the site of the Otowa Waterfall in the wooded hills east of Kyoto, and derives its name from the fall's pure water.
Kimono

We need to walk quite a distance but no complain since the weather is nice. Hehehe.

I haz long legs !!

Sin with his weird expression.

Souvenir shop along the street. I didn't know Sin actually wanted to buy his favourite childhood character mask. You wouldn't believe what it is. Haha. I should've bought the Japanese umbrella back. Looks pretty hor.

Almost there.

Signature jumps.

At the entrance. Round face guy. Hehehehe.

Sin called this Laughing Lion.

Simplysnap

One thing I love about Japanese temple is that you need to wash your hands before you enter the temple. Just look at how the locals do if you do not know how, but don't follow the way Sin did. He carried too many things with him he couldn't do it properly. Haha.

Why you so tall?

Why I so short?

Sin was looking for map and he studied the map as usual. Like Yien said, leave the job to the guy cos girls are noob lazy doesn't seem to understand the map well. HAHAHA. Sin did mention that he wanted to look for a place with love stone. I didn't suspect anything lor.

Little history on Kiyomizu-Dera (Buddhist Temple)

and when Sin told me we need to pay for the entrance, I was reluctant to go in lor. But he managed to convince me and he paid for the entrance. Haiyaa.. already here in Japan, what is 300Yen for the entrance at the most popular temple in Kyoto? Pay ma pay lor.

So, before we enter the temple, one MUST-DO thing is to let go water in our body system. HAHAHA !! I always have weird discoveries when I go to toilet in Japan. But one thing and the best thing I love about toilets in Japan is that it is always very CLEAN.

More about toilets later. Haha.. Off we went to visit the temple.

Look at the two words there !! It says Sky Wealth. So, after you make your wish, remember to do it our style. Say out loud and clear. HUAT AH !!! Kakakakaka !!

Or you can wish like Sin: I wish every year I will come back with Rose here to praise You and to thank You for giving us Wealth. *giggles*

Why no sound one?

Our eyes very bad. See what also wanna buy.

Weird things he did.

Wooden box you will see in all the temples in Japan.

According to Sin, this is the word of the year: TURN.

Free flow of Incense for visitors. Light them on, make a wish and offer them to the God.

Shower the face or head with the smoke for good luck. We did what the locals did and my eyes went reddish and spicy and the tears flow.

After prayers and wishes, Sin finally found the place he was looking for. He told me after his proposal that he started to get nervous at the entrance of Jishu Shrine.

A little history. Behind Kiyomizudera's main hall stands Jishu Shrine, a shrine dedicated to the deity of love and matchmaking. In front of the shrine are two stones, placed 18 meters apart. Successfully finding your way from one to the other with your eyes closed is said to bring luck in finding love. You can also have someone guide you from one stone to the other, but that is interpreted to mean that an intermediary will be needed in your love life as well.
As usual, he is my tour guide, telling me stories of the place. And as usual, I will listen to him cos like I said, I didn't do any homework.. and everything in Japan seems interesting so I was listening very carefully to him when he enjoyed his story telling la. Hahaha. Then he persuade me to play tim after we saw people playing.

and after guiding him from one stone to another, he successfully reached without any injuries cos I was kind enough i didn't cheat him to walk near the stairs and roll down like a potato. HAHAHA !! .

Love Stone – The fortune telling stone.

At first, I was reluctant to play, so I walked around snapping photos and seeing groups of friends trying their luck playing at the stones. It was funny looking at them playing.

But Sin said since we were there already and no one knows us there, why not give it a try. So, while guiding me from one stone to another, he said many sweet stuffs to me la. I didn't dare to walk fast because I am afraid he will trick me and make me fall. Naahh.. just kidding. cos I am afraid I'll bump into the people there. Hahaha. So, erm.. when I reached and touched the stone, he asked me to open my eyes.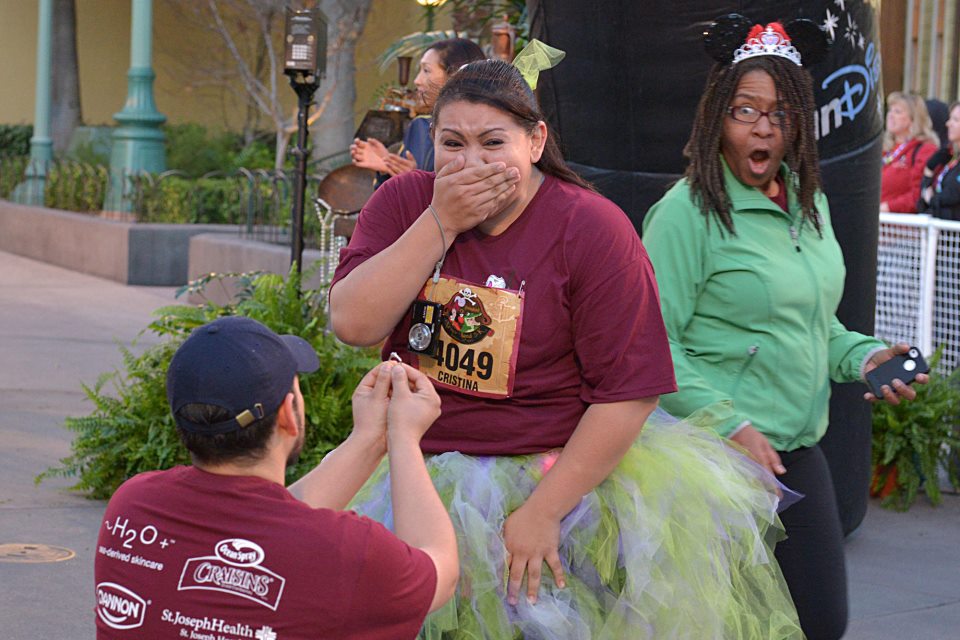 HAHAHAHA !!! Nolar.. I didn't cover my mouth and I wasn't crying like I am finally getting married kinda expression. I was more to like SHOCKED.. and according to Sin, I asked him numerously, "Why did you do this?!" until he said, "I'm going to kneel down here until you said Yes." <-- WOOAAAHH !!! Force people one, you see?!! I cannot say No lor.. if not ah.. how I go back to hotel and go other places to play ler?!!
So, I said, "Ok lah" to ensure I have a someone continue to bring me play and not forgetting to bring me home when it was time to go home. Hahaha !!
I looked left, right, front, back and made sure no one is watching us but there was a Japanese aunty who looked like this. I mean her expression.

His successful proposal photo taken by me, using HTC One :3

and with help of other visitor, we have a "after-proposal" photo.

Funny thing happened when Sin wanted to tag me and his phone appeared two names. Suggestions were Rose Wong and Wilson Chua and he went like.. Why Wilson???!!! HAHAHAHAHA !!! Funnymax !!

So guys, you can use Sin's way of proposal if your girl is as noob as me. Kakakaka. So, the happy guy felt relieved after the proposal and happily spending all the money he has.

Everything he saw he wanted to buy them all. Buy me Japan please future husband.. kakakaka.

and his love for rabbit grows stronger. HAHAHA.

Many asked how did I feel after being proposed. Maybe I should make this another post "blah"ing out all my feelings since this post already have like hundreds of photos.

Successkid.

and he laughed at me there's only ONE WAY after saying Yes. In case you didn't notice, he's holding the ring. Diamond too small if you only realize it after I mentioned. hahaha.

Staircase to Otowa Waterfall.

The Otowa Waterfall is located at the base of Kiyomizudera's main hall. Its water is divided into three separate streams, and visitors use cups attached to long poles to drink from them. Each stream's water is said to have a different benefit, namely to cause longevity, success at school and a fortunate love life. However, it was said that drinking from all three streams is considered greedy.

Free green tea at one of the souvenir shops.

We stopped by at one of the shops for coffee break since the weather outside was pretty cold. We were fortunately enough that this coffee served to us was award winning coffee. Of course, Sin felt like he was floating when sipping the coffee. Haha.. and Green Tea Crepe Cake was heavenly delicious.

Happy boy.

Have you seen Gold Shit before? Hahaha. Maybe I should've bought this back for better wealth.
We continued to explore the place.

Look at that happy face.

BodyAttacking – Kick – Leg straight.

The hidden washrooms.

The sky turn dark very fast and very early. Dahlah Japan time is already +1 but the sky turn dark before our usual evening time. Wuwuwu.

Found another place to eat.

Nom nom nom.

Very yummilicious piece of meat mashed potatoes – Coroque / Korokke.

and the shop closed immediately after we left. I saw some tourists wanted to buy food but the shop owner did not sell to them. I guess it's the Japanese culture? If Chinese, they will definitely sell to the tourists cos they look heavier on $$$. Kakakaka.

Look.. there are shops that are still in business.

and Sin found a shop that he loves so much. I didn't know little things like these attract him so much.

He wanted to get everything here. He stood in from of them for so looooonggg and couldn't decide what to get.

and I help him to decide not to buy any of them.. Huhuhu. I think he must have regretted listening to me after looking at this pic.
Since many shops were closed early, we had no choice but to leave the place and hop in to a convenient shop at the intersection to grab some food again.

One feels hungry easily at cold weather. I say real real one.

and we continued our journey to find bus stop so we could hop on another bus to go to our next destination.

We then took bus to another temple, but unfortunately it was closed. Guess we spent too much time loitering at the previous location. We then walked to nearby to look for the flea market that they only have it on Wednesdays. We thought we were lucky enough but unfortunately..

We were very sure that we were near the location as mentioned by the tourist center, only then we find out that either they closed early or there is no flea market during Christmas
No flea market
His everywhere-must-drink-coffee at McCafe in Japan.

Closer look.

During winter, any hot food will be delicious. Ebi Filet-O Burger and Nuggets.

Burger at McCafe.

This shark whale's meat canned food caught Sin's attention and hence..

The proposal ring can fit in the glove wei.. obviously the ring is too big. Hahaha !!

Finally, we took bus back to Kyoto Station. Our initial plan was to take train then walk back but we made a right decision to sit on bus and enjoy the night scenery of Kyoto and this is the view from Kyoto Station. Is this Kyoto Tower?

Christmas tree at Kyoto Station.

The humans.

Us

and I was forced to pose like Japanese.

and he enjoyed posing like a Japanese.

Joining the crowd to sit on the cold stairs.

Night views

Couldn't stand the super cold -2degree temperature.

So, we left and went back to the hotel but was hungry. Good thing is that the hotel has food vending machines.

Instructions that Sin didn't want to follow at first.

The rice.

Sin was thinking why must the packaging be used again after putting all the ingredients. He wanted NOT TO PUT IT BACK.

Seconds later, the box generate weird things out. Sin was glad that he followed the instructions. Else, we couldn't imagine what will happen to our room. HAHAHA !!

Not a nice food, but acceptable. Hehehe.

Alright. Final pic before I end the post. A closer look at my ring before we called it a night.

Read his version of proposal if you haven't