It's the time of the year again where many of us are required to submit our income tax Form BE to LHDN (Lembaga Hasil Dalam Negeri). There are two types of people in this world Malaysia.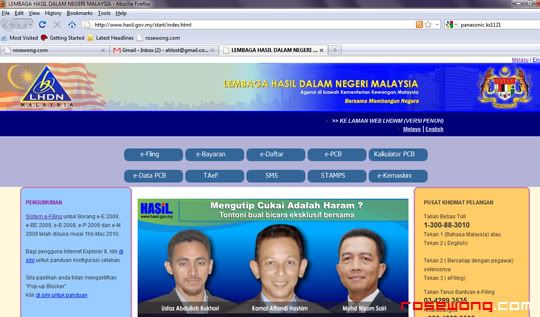 Type: www.hasil.gov.my
First type of person is "early bird" type. Early bird as in submit their e-filing as soon as possible to avoid traffic jam at LHDN.
2nd type of person is "last minute" type. Last minute as in submit their e-filing on the last day of the month, which is 30th April, every year, to make traffic jam at LHDN.
and.. I should categorized myself as 2nd type for doing this at the eleventh hour 😀 (Teacher, I still remember what you taught me) :3 HAHAHAHA !!
"The eleventh hour" is a colloquial expression meaning "a time which is nearly too late".
Ok ok.. Back to this e-filing thingy which has made life worth more <-- So ING one 😀 *LOL* Ok ok.. I mean which has made life much easier. We do not have to fill in the many pages form anymore. PTL.

Click: Login e-Borang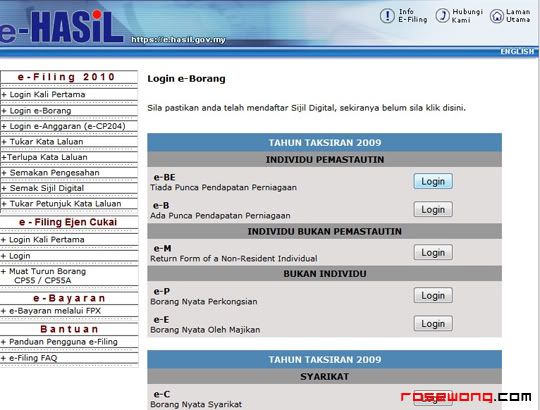 Click: e-BE
and next,


Type: Your 12digits New I/C Number and your Password.
You'll then see a page with of your details.. and maijiet.. I saw my gender was MALE !! o.O Of course I immediately change it to FEMALE *LOL*

It only takes less than 5mins for you to fill in all the details needed. Amazingly fast right? And you don't have to use correction fluid to amend the wrong figures written. All you have to do is to backspace all the way 😀
Once you're done, you'll be directed to Declaration page.

If you're satisfied the all the information filled, all you have to do is just to click Sign and Send.

How to sign on computer screen? *LOL* Common question. No, you don't need a pen to sign for this case. All you have to do is just to key in your 12digits I/C number and your password, and you're almost done.
and tadahhh.. Acknowledgement Receipt will be issued.

No, that's not it. If I didn't read wrongly, a 10% will be imposed on you if you didn't manage to make payment by 30th April. So, you're only considered done after you've made your payment to Ketua Pengarah Hasil Dalam Negeri. (if any)
E-filing is actually very easy and convenient. All you need to have is, a computer with internet access. But even if you do not have, you just have to bring your file, with EA Form, receipts of Insurance, Medical Bills, Bills for books and magazines, Receipts for Sports Equipement and Computer, Donations Receipt and all the related documents and go to any of the LHDN branch and the friendly consultants will help you to do e-filing.
I've done mine. How about you?
Bahahaha… Since tomorrow is the last day, I'm charging RM16.80 (168) for every e-filing that I'm doing.. I know at least 5 people will come to me to seek for help.. 😀