I have totally forgotten about He Says She Says Project until Ming whatsapp me to ask me about the topic
and I didn't realize last Friday was already Friday
So, as girls, we do think there are few things that guys should take note on especially when they're on their first date. To be fair to the guys, Sin will be doing Things That Put Guys Off On First Date. Tell him or tell us what more do you think things that will turn guys off. We will never know if you never share.
Okay. Just my 2cents on this topic.
(1) Who Are You Dating With? Your Phone or Her?

I think I've mentioned this earlier on my first post. You will seriously turn a girl off if you're dating with your phone instead of the girl in front of you.


If you really can't get rid of your phone because your phone is your life and your everything, then I would suggest you just date the girl online so you can see her in your screen than in person. What's the point of looking at your phone most of the time? Want to show off how popular you are online?
(2) Ignorant
I think this is very important !! You know some girls, when they're on first date, they tend to wear "less" .. I mean.. like, maybe just a singlet or some attire similar to singlet..

and not like this !! (though I know many guys wish.. but hey.. I'm talking about first date ok)

I don't know bout you, but I think guy who have additional jacket or take out his jacket from himself to cover a girl is very sweet lor. I say real real one.. The jacket somehow will give warmth not only to the girl's body, but also to her heart lor.. Best would be the jacket would have the smell of your perfume. Not your BO aaaahhhh.. !!!!

(3) Words With Thorns
Girls are sensitive, as claimed by the guys !! But do you know why girls are sensitive? Because some guys are INSENSITIVE.
For example, some guys will bring up some sensitive funny lines like:-
– I would prefer you tie your hair up.
– I think you will look better in dress.
– I think your eye shower color is a bit too much.
– I think you smell weird.

Waaahpiaaanngg.. You think you're dating supermodels meh? If they are, you will feel very proud hor?? Then are you compatible with them or not? Ok guys, even if you think her hair is messy, even if you prefer her to wear dress, even if she didn't realize the eye shadow that she put on is a bit too much and even if she smells weird to you because you don't like her perfume, JUST KEEP IT TO YOURSELF if you have nothing better to say.
(4) Stare
It is okay if you took a peek at girl's boobs.. but please hor.. do it professionally la..

She has the boobs, but that doesn't mean you have the right to stare at them whenever and however you like.

Do it professionally like this.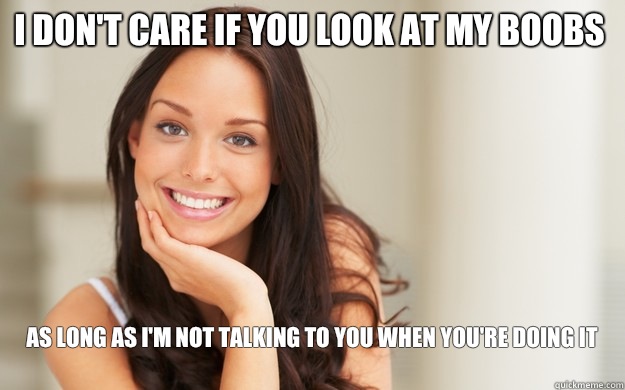 Look at them when she's unaware. Understand?

Can see cannot touch/feel them very torturing for you guys right? So, give your eyes a break !!

Look into her eyes. They're far more attractive than the boobs.

(5) Bring along a friend
I am not saying guys cannot bring a friend along when they have girlfriend.. and relationship is more important than "brotherhood" or friendship. I am talking about first date. FIRST DATE !!! Why on earth you want to bring a friend along when you're on your first date? Trying to impress the girl that you have many friends? Or trying to intro her to your friend because you do not like her?

If you're serious about your first date, please make sure the above things do not happen. Just relax yourself and try to be yourself without trying too hard to impress the person you're dating because pretending is not easy too. If she likes you, she will like you. As easy as that. All the best in your first date.